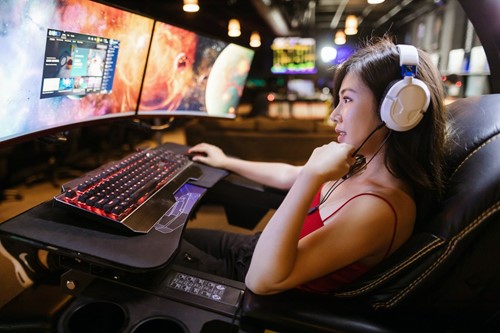 When you have a gaming room in your home, you can enjoy playing video games in comfort. Having high-quality video and audio equipment is an essential part of any gaming room, but you can also add some style with the seating and decor you choose. If you're exploring options for gaming room decor and seats, the following tips can help you decide what to get.
Consider Gaming Seats
The right seating can make a big difference in your gaming experience. While you can put a traditional couch or armchair in your gaming room, this might not offer the best or most comfortable type of seating. Depending on how much you normally play video games, go with seats that are made for gaming. These seats are more ergonomic compared to other kinds of seating, which can reduce your risk of muscle strain, back pain and other problems. These gaming seats sometimes come with amenities that offer added convenience for gamers, such as a place to put your headset and a USB port. If you typically snack while gaming, look for gaming chairs that include a cup holder or fold-out table.
Think About Traditional Seats
While gaming chairs offer practical benefits for gamers, you can fill your gaming room with traditional seating instead. If you're going to put a sofa or armchairs in your gaming room, make sure that they're made of high-quality material that offers both comfort and durability. You might also want to add side tables to hold controllers, snacks or drinks while you're gaming.
Choose a Seating Material
Gaming chairs are available in different materials, with some offering a more stylish look and others being easier to maintain. Leather gaming chairs provide an exorbitant amount of durability, which means they can hold up better over time. Fabric gaming chairs offer more breathability, making them more comfortable to sit in for longer periods of time. Mesh chairs offer a cost-effective option, although they're typically harder to keep clean.
Select Lighting
Light fixtures can add ambiance to your gaming room, but you should be careful not to have too much lighting. You'll also need to watch where you put lights, so you won't have glare on your gaming screen. Wall sconces provide plenty of light without being overhead, which can help lower your risk of headaches or eyestrain when you're gaming. You can also have some fun with creative lighting options, such as laser lights, if you want more of an arcade look and feel.
Choose a Gaming Theme
You don't have to go with a theme for your gaming room, but it can make it easier to choose decor. Consider going with a certain color scheme or basing the room's design on your favorite games or video game characters. For example, you might include racing decor in your gaming room if you prefer to play racing games. You can add throw pillows, lamps, wall art and other decor items that fit your theme to your gaming room.